Top 5 Deals on Smart Watches You Can't Afford to Miss
Smart watches are no longer a luxury fad only among the geeks. Fitness freaks and workout enthusiasts can't do without it. The ever-busy professional ensures efficient "time management" with his smartwatch. Like smartphones, a smartwatch has numerous value-added features that do much more for you than just telling the time. In short, managing time has become smarter than ever before.

And if you thought smartwatches are all very business-like, think again! Fashion smartwatch is in vogue among the fitness conscious women with features such as real-time heartbeat detection! Kiindly offers amazing deals on popular smartwatches offered by leading wearable brands that you simply can't afford to miss.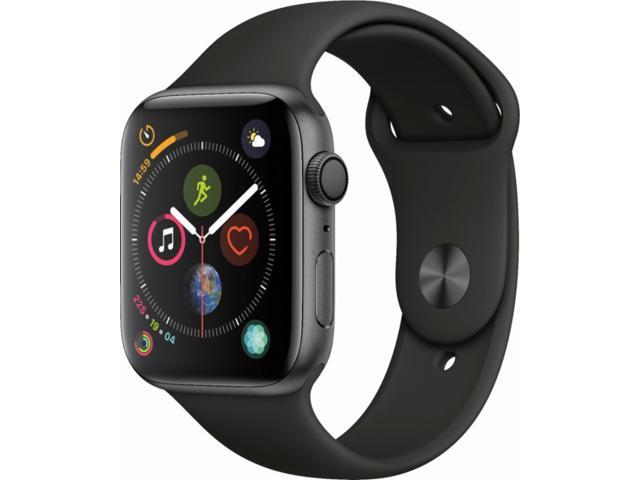 Apple Watch Series 4 (GPS), 44mm Space Gray Aluminum Case with Black Sport Band
On your ultimate workout partner that works on land and in water both, earn cash back rewards. This water-resistant device with up to 18 hours of battery backup works normally at a depth of 164 feet in the water. It is not just a watch, rather your fitness trainer that understands your efficiency and needs, and trains you accordingly.

Including yoga and hiking activities tracking, the smartwatch takes a leap in the wearable industry. The device is powered by a 64-bit dual-core S4 processor and has got 16 GB memory, which is more than enough to store your favorite tracks and fitness stats. Pair it with your iPhone 6 or higher model and enjoy the inspirational tracks while you sweat out. More song choices are available with Apple Music. Control your smartwatch and phone using Siri, the most obedient voice assistant. Data synchronization is offered through Apple's legacy iCloud platform.
Apple Watch Series 4, %store_name-newegg%, $534.95
+ %store_cashback-newegg%
Shop Now
Samsung Gear Fit2 Pro R365 Large
Available at an attractive price with a 0.6% Cash Back, this smartwatch model is known for its big and bold design. Samsung Gear Fit2 Pro R365 monitors your fitness on land and in water. The smartwatch stays resistant to waters down to 164 feet.

Pair it easily with an Android (Samsung Galaxy devices running Android 4.3 and above) or iOS smartphone (iPhone 5, 5S, 5C, 6, 6+, 6S, 6S+, 7, 7+ and SE running iOS 9.0 and above) or compatible wireless headphone using Bluetooth 4.2 or 802.11b/g/n Wi-Fi technology. Its 200mAh rechargeable battery helps you enjoy your active lifestyle for days without putting it back to a power supply. 4GB Storage + 512MB of RAM help it cope with your multi-tasking needs. Store enough songs and listen to your favorite tracks while chasing your goal.
Samsung Gear Fit2 Pro R365 Large (Refurbished), %store_name-best-buy%, $94.99 (52.5% Off)
+ %store_cashback-best-buy%
Shop Now
Garmin Forerunner 235 GPS Sport Watch
Get comprehensive, real-time run statistics, including wrist-based heart rate data, with the Garmin Forerunner 235 in marsala. This GPS- and GLONASS-supported running watch shows you distance, pace, and heart rate data on its 1.23" color display. Additionally, the 235 incorporates more advanced running metrics and features, including Virtual Pacer, VO2 max estimate, and more, giving you all the data you need to be a better and more efficient runner. An accelerometer is built in, so you can still capture running data when you're running indoors without the need for a separate foot pod accessory. In addition to running data, the Forerunner 235 also works as an everyday wellness and activity tracker. It counts your steps, calories burned, monitors your sleep quality, and will cue you to move when you've been sitting too long.

The Forerunner 235 enables you to share all your run and activity data and monitor your progress at Garmin Connect. Garmin Connect is Garmin's free online community where you can plan, save, and share your activities. Download the Garmin Connect Mobile application to your compatible smartphone and all your activity data can be automatically uploaded from your Forerunner 235 to Garmin Connect.
Garmin Forerunner 235, %store_name-eglobal-central%, $218.99 (34% Off - Black Friday Special)
+ %store_cashback-eglobal-central%
Shop Now
Skmei Women Fashion Smart Watch
Skmei Women Fashion SmartWatch is a GPS-enabled waterproof gadget that can help you maintain your summer body with style. However, its water resistance efficiency is a bit lower than the counterparts discussed above. It has got excellent features for real-time monitoring of heart rate, step counts, and distance traveled. However, it's a bit of a conscience keeper too. It has got a long sitting reminder feature that pokes you if you stay idle beyond a defined time.
Skmei Women Fashion Smart Watch, %store_name-aliexpress%, $20.99
+ %store_cashback-aliexpress%
Shop Now
SKMEI Men Smart Watch Pedometer Calories Chronograph Fashion Sport Watches Chronograph 50M Waterproof Digital Wristwatches 1227
It has got a 5.5 cm built-in LED display that reads temperature, time and date, along with displaying vital fitness stats related to calorie consumption and steps or sleep. Its 3-D pedometer measures the motion of your body very precisely.

This is a rugged smartwatch with a 16mm dial diameter. Presence of a detachable USB charger frees you from carrying your power adapter. Charge it anytime connecting with your PC or any other device.
SKMEI Men's Chronograph, %store_name-newegg%, $27.99
+ %store_cashback-newegg%
Shop Now